President Goodluck Jonathan's government had a number of women but none of them wielded as much power as that of an elite class often referred to as 'the untouchables,' GBENRO ADEOYE writes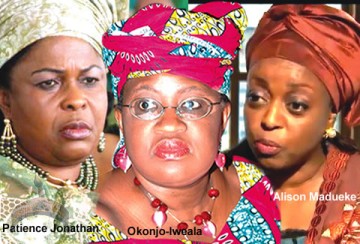 As President Goodluck Jonathan takes a bow on May 29, 2015 following the expiration of his tenure, so will some women who helped define his government, unless the new administration finds use for them.
Whatever is said about President Jonathan's government thereafter will not likely leave out the roles played by these powerful women. However, an assessment of whether their roles were noble or otherwise would largely depend on the assessor.
The public have been busy though, tagging the women various names including 'the untouchables.' Interestingly, some people believe the women wield more power than the President himself. It is also believed that these women could get away with almost anything in President Jonathan's government and his will to protect them was never found to be short.
Five women initially occupied this elite class, all occupying key positions in government until events led to the exit of two of them: former Minister of Aviation, Ms. Stella Oduah and former Director-General of the Securities and Exchange Commission, Ms. Arunma Oteh.
The last three standing are the wife of the President, Mrs. Patience Jonathan; the Minister of Finance, Dr. Ngozi Okonjo-Iweala; and the Minister of Petroleum Resources, Mrs. Diezani Alison-Madueke.
Oduah's power as the then Minister of Aviation was attributed to the active roles she played in President Jonathan's 2011 campaign as its Director of Administration and Finance, where she reportedly garnered huge donations in support of Jonathan's bid. She was also instrumental to the establishment of Neighbour-to-Neighbour outfit, which reportedly spent billions of naira on adverts and media propaganda in favour of Jonathan.
Oduah, who hails from Anambra State, was however relieved of her duties as Minister of Aviation on February 12, 2014 after a series of scandals, lots of public pressure and some heavy foot-dragging by Jonathan.
Her numerous scandals included the comments she made after the Dana and Associated Airlines crashes which occurred during her time as Aviation Minister, purchase of highly inflated BMW bullet-proof cars without following due process and allegations that she lied about obtaining an MBA degree from St. Paul's College.
President Jonathan's foot-dragging before eventually relieving Oduah of her duties laid claim to the kind of influence she had in the government and how indebted Jonathan allegedly was to her.
Although, Oduah is still being investigated by the Economic and Financial Crimes Commission, she has claimed a place in the next government after winning Anambra North Senatorial seat at the last parliamentary election.
As for Oteh, who graduated with a first-class degree in computer sciences from the University of Nigeria in Nsukka and earned her MBA from Harvard Business School, even the members of the House of Representatives felt her influence during a power tussle they had with the Abia State-born British citizen. After the dust settled, it was one of them who got his hand burnt.
Nigerians are not likely to easily forget the clash Oteh had with the House of Representatives Committee on Capital Market, which accused her of fraud and misappropriation of funds.
She fired back, accusing the chairman of the committee, Mr. Herman Hembe, of demanding bribe from SEC and failing to return some money meant for travel expenses which he did not undertake.
Harambe was investigated by the EFCC and also had to step down as chairman of the capital market committee.
On the other hand, Oteh was suspended by the SEC board in order to investigate the findings of the lawmakers, which indicted her. But that didn't last for long as she was returned to her position by President Jonathan two months later following the auditor's report that said her offence amounted only to 'administrative lapses.'
An intense battle between President Jonathan and the House of Representatives subsequently ensued with the House demanding the sacking of Oteh. President Jonathan refused. As a result, the lawmakers delayed the passage of the 2013 budget and later insisted on zero budget for SEC, all because of Oteh, but Jonathan refused to budge and SEC managed to get funding up until her tenure ended in January 2015.
PATIENCE JONATHAN
Mrs. Jonathan wields enormous influence in her husband's government. She has never been shy to make comments even in areas where the presidency has been silent.
For instance, at the peak of the battle between the Presidency and Governor Rotimi Amaechi of Rivers State, when speculation was rife, Mrs. Jonathan admitted to the feud and went ahead to say she was angry with the governor for his refusal to follow her directive. She scolded the governor in public over his plan to demolish some structures in Okrika area of the state to pave way for school buildings, even though the position of the First Lady is not recognised by Nigeria's constitution.
Also, when the Presidency was silent on the whereabouts of Mrs. Jonathan, when she was on medical trip abroad, put paid to the speculations by admitting that she was ill and had been abroad to get treatment.
In June 2014, in apparent violation of the electoral act, Mrs. Jonathan reportedly started campaigning for her husband ahead of the 2015 elections, and when she visits any city in the country, she locks it down as she does so with a long motorcade, including bulletproof limousines and scores of security operatives.
Mrs. Jonathan, 57, has often been accused of interfering in state party politics and sometimes imposing her candidates on party members.
And during her husband's campaigns ahead of 2011 and 2015 elections, Mrs. Jonathan organised rallies across the country, making defamatory statements about her husband's political rivals.
She holds a National Certificate of Education in Mathematics and Biology from the Rivers State College of Arts and Science, and a Bachelor of Education degree in Biology and Psychology from the University of Port Harcourt.
In spite of such qualifications, Mrs. Jonathan was often criticised by a cross section of Nigerians for lacking the articulation and composure so required by the office of the First Lady. Her action after the abduction of over 200 Chibok girls, who are still missing, has also been described by the public as arrogant and insincere.
Although, her position was an unelected one, Mrs. Jonathan had no qualms summoning ministers and other public office holders.
NGOZI OKONJO-IWEALA
Okonjo-Iweala is on her second stint as Minister of Finance; she occupied the same office between 2003 and 2006. She left the position as a hero at the time because of her contributions to the debt relief Nigeria enjoyed during the administration of former President Olusegun Obasanjo. She also served as foreign minister for a brief period in the same government.
Under President Jonathan, Okonjo-Iweala was given more power with her position as coordinating minister for the economy in addition to her position as Finance Minister. This was criticised by some members of the public who described it as a constitutional aberration of the office as conferred on her with fiat by President Jonathan, saying the office of the Vice President should be in charge of coordinating the economy.
Okonjo-Iweala has called the bluff of the National Assembly and many state governors without any consequence.
Many governors called for her removal but nothing came out of such calls. When the Head, Media and Information Unit of the National Emergency Management Agency, Mr. Shuaib Yushau, wrote what was considered a critical article titled, 'Still on Okonjo-Iweala over Controversial Appointments', against Okonjo-Iweala, he got the boots.
The article had called on the minister "to ensure that appointments into important positions should be done in credible and transparent manner that can withstand public scrutiny," but there has been no record that his allegations were investigated. The incident only showed how much power Okonjo-Iweala wields in Jonathan's government.
When the former Governor of the Central Bank of Nigeria, Sanusi Lamido Sanusi, alleged that about $20bn was unaccounted for and purportedly missing under Okonjo-Iweala's nose, it was the whistleblower who paid for it with his job. As for Okonjo-Iweala, who also serves on the Advisory Board of Global Financial Integrity, her position was safe as she continued to assure Nigerians that all was well with the economy.
In January 2012, Nigeria witnessed one of its worst organised protests tagged 'Occupy Nigeria.' Against the opinion of the majority of Nigerians, Okonjo-Iweala and Alison-Madueke were reportedly the ones who insisted on the removal of fuel subsidy, and literally ordered that it be done at the beginning of that year.
In spite of the opinion of many Nigerians that Okonjo-Iweala has failed in her second stint as Minister of Finance, the Presidency has continued to assure that the country's economy is in safe hands.
Okonjo-Iweala graduated from Harvard University in 1977, and earned her Ph.D. in regional economic development from the Massachusetts Institute of Technology in 1981.
DIEZANI ALISON-MADUEKE
Nigeria's oil sector queen, Alison-Madueke has been the first woman to achieve some feats. She was the first Nigerian woman to be on the board of Shell Petroleum Development Company, Nigeria, the first female Minister of Petroleum Resources and the first female President of the Organisation of Petroleum Exporting Countries.
If there was a poll for the minister with the highest number of calls for resignation or sacking, Alison-Madueke would easily win the contest.
The oil sector is Nigeria's biggest and revelations of massive fraud in the sector have continued to fuel calls for her removal. With the alleged corruption in the sector, the opinion of many Nigerians is that the person who supervises such rots cannot be said to be clean.
In spite of various allegations against Alison-Madueke and calls for her resignation, the Presidency has refused to probe her.
Meanwhile, several panels, including those headed by Nuhu Ribadu, Farouk Lawan, and Aigboje Aig-Imoukhuede as well as the Nigerian Extractive Industry Transparency Initiative have indicted departments under her watch.
In 2014, the House of Representatives investigated the alleged squandering of N10bn over a two-year period on the arbitrary charter and maintenance of a Challenger 850 aircraft for unofficial use. She refused to cooperate with the lawmakers' investigation and the President defended her on national television, saying his ministers would have no time for work if they were summoned by lawmakers for every allegation against them.
It is said that her words were law in the Federal Executive Council and that no Minister could oppose her memo.
Various controversies under her watch include the oil subsidy scam by some cabals yet to be brought to book, alleged missing $20bn oil funds unaccounted for, oil theft and the award of pipeline contract worth billions of naira to ex-militants and militia leaders.
In the league of 'the untouchables', it is believed that Alison-Maduaeke leads the pack.