The leader of the Peoples Democratic Party in Lagos State, Chief Bode George, says the loss his party suffered in the presidential election has strengthened his resolve to make certain victory for his party in Lagos.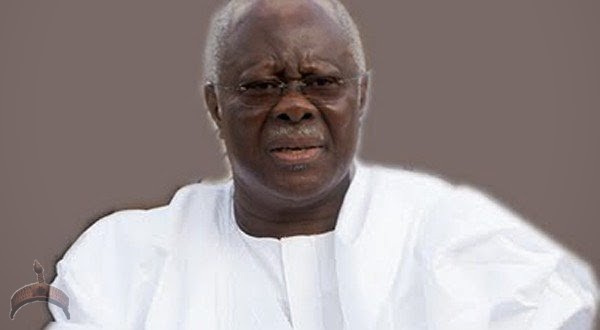 He, therefore, said that he would strategise and lead an enormous campaign against the All Progressives Congress, which has been doing power in Lagos for 16 years.  George told Punch correspondent in a telephone interview on Wednesday that he would lead the campaign of the PDP governorship candidate, Mr. Jimi Agbaje, like an army general.

He said,
"I am here and I will be at the centre of operation. The people of Lagos also want a change and we are going to be here to lead the battle. The battle is on and the people of Lagos want a change and we will ensure that we get it right.




"Lagos people know that this administration has mismanaged their resources. We are not leaving anything undone. We will reach out to the people during the campaigns."




George said he would never defect to another party. "I will remain a member of the PDP till I leave this world," he said.
The PDP leader denied reports that he said he would go on exile following the victory of Muhammadu Buhari at the presidential polls.
He said he would rather travel outside the country for a while in order to finish writing his autobiography, saying he had been unable to finish the book because of his busy schedule.

He said,
"I have been travelling long before now and now I need a long rest. I am 70 and I need to tidy up my memoirs and if you want to do that, you need a lot of time away from all of the hassles. But it does not mean I will no longer be a Nigerian. I have no personal grudge against Buhari or all the other people.




"We are in two different parties with different ideologies and if he is the President, I have no objection and I wish him the best of luck. The break will give me time. Rather than running up and down to Abuja, I will be there (abroad) writing my memoirs and doing other things for myself. Of course I will come back, my mother is still alive. I am not scampering out of Nigeria."
Source: Punch